Ghana part 1
2011 rolled around, and I was yearning to return to Africa. Since I have traveled to the north and to the east, I decided to check out the west. I found an organization that I thought would fulfill my goal to participate in a grass roots project in Ghana.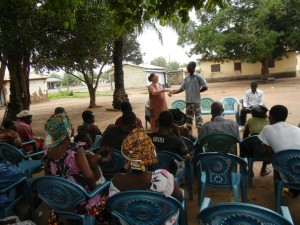 It was with great difficulty, I managed to negotiate a time for HIV/AIDS presentations in the bush villages that surround Adidome. I feel the villagers enjoyed listening, through translation, to what I had to say. A local man started off the presentations by talking about the dangers of malaria, and I ended with HIV/AIDS education.
Through my HIV/AIDS presentation, I emphasized the importance of treating people with HIV/AIDS just like a neighbor. People could still give them a hug, shake their hand, and eat with them. In this part of the world, it is not uncommon for people who contract HIV/AIDS to get shunned from their village, destined to live a life of solitude. I was trying to change this.
After our presentations were finished, we opened up a forum for the villagers to talk with us about any concerns they had. Simple farming equipment, a first aid hut, and access to clean water were all common things we heard.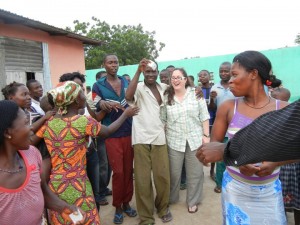 The village that brought up clean water had just been straining their river water through a cloth to make it clean. I explained to them if they boiled the water for 10 minutes it would be safe to drink. Simple lessons of survival in this part of the world saves lives.
Following the open forums, we would ask the young adults to join us. We would take them for a short walk, and I would hand out the condoms that were generously donated by Planned Parenthood. The villagers got very excited about the condoms, all the way from America! I stressed the importance of protection to all of them.
I was also able to visit a local school, where we gave our malaria and HIV/AIDS talk. I would quiz each classroom after we were done, and I gave out some school supplies that I had brought with me as prizes.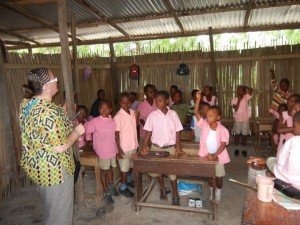 Unfortunately, I would not recommend Community Aid International (CAIN) for several reasons. CAIN proved to be unreliable with the plan we had developed before arrival. My observations were that they don't really do much for the community. The director who was supposed to take me around to the villages was often absent, and there was a lack of work for me to do. For example, a German girl arrived a day before my departure to volunteer with CAIN. She had been promised a project in the local hospital. She ended up doing data entry while the hospital worker whose job she was doing napped next to her.