Guatemala part 2
I found Animal AWARE through the Volunteer South America website. At that time, back in 2010, they had a contact list of old volunteers. I choose a few to email, so I could get a better perspective on volunteering at AWARE.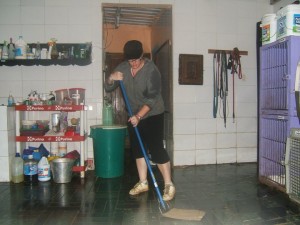 Everyone I communicated with just raved about AWARE. It is a no kill shelter, which made me like it even more. I emailed the director, Xenii, and told her I would love to help out if she had space.
One of my co workers at school has a wife, Dr. Jackie, who is a veterinarian. She was able to donate a big box of various medicines for me to take with me. I also had the students at the school I work at involved with the Battle Ground Barkery save me the broken dog biscuits they couldn't package up and sell. That way I could bring the dogs some yummy treats along with the medicine.
I had already been traveling around for nearly 2 months, so I rode on the local buses. I reached my stop and got off the bus. I headed up the dirt road for about a kilometer until I reached the gate of the shelter. I could hear the dogs barking to welcome me!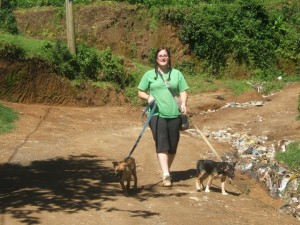 I was met at the gate by Xenii. She is an American who has been living in Guatemala since the 70's, and is the one who started and runs the shelter. She has a huge heart and deeply cares for each and every animal that lives at the shelter.
After two days, I was the only volunteer. Luckily Xenii's assistant, Ligia, was there to help me with the rounds. There was so much to do everyday. Our first priority was the animals in the clinic. We made sure their kennels were clean, they had fresh water and food, and that they received their medicine. The animals in the clinic also had to be walked twice a day.
With over 200 dogs and 80 cats, there was always a job to be done. One of my first days I spent in the geriatrics unit grooming dogs. One had just had an eye removed due to glaucoma, and a couple others were blind from cataracts. I would help the dog walkers, feeders, and cat colony cleaners. No job was too big or too small.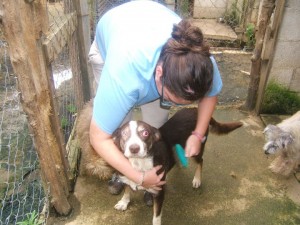 At first I felt sad for the animals. But after working for a few days, I know their lives were much better at AWARE than they were on the streets where they were found. The dogs were happy and loving. I wanted to take several of them home with me.
On my last day, a dog was brought in and I was asked to help transport him up to the clinic. Upon meeting the dog, who was brought on the back of a motorcycle, his brain was sticking out of his skull.
He had been "accidentally" struck in the head with a machete. I put a lead around his neck and he walked next to me up to the clinic. I had never seen anything like this before. It had puss coming from it and was green with infection. We immediately started him on antibiotics, and the next day he went to see the veterinarian in Antigua. The vet patched him right up. The dog, whom we named Machete, made a full recovery. This is the great work Xenii and her staff accomplish at AWARE.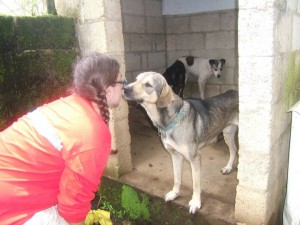 Animal AWARE is a fantastic organization to volunteer with, and I highly recommend them. You have to be self motivating, as there is really no set schedule. I absolutely loved my time here. They charge a small fee, $5 per day, to stay on site. I appreciated the tranquil nights at the shelter, and enjoyed cooking my own food. You can choose to find a place to stay in the nearby town of Sumpango, about a 20 minute walk up the dirt road as well.