India
After my time in Nepal was finished, I found myself in India. I knew I wanted to spend some time volunteering at one of the facilities run by the the Missionaries of Charity/Mother Theresa. Volunteer information was not that easy to find on their website back in 2009. After some searching, I at least found out where the main center was.
At this point in my travels, my friend and travel partner, Janine, had joined me. We made our way to volunteer registration and orientation.  With my skill set, I was placed in the special needs toddler room at the orphanage. We were only there for a few days, so we weren't allowed to take any photos.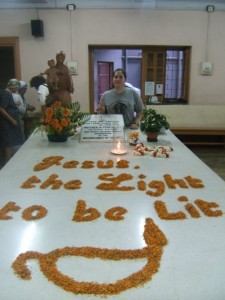 I was amazed at how much the sisters had for the children! In my mind, I was envisioning a grungy orphanage with little to nothing in the way of furniture, clothing, and adaptive equipment. I worked with a boy, about 3 years old, who was non-verbal and suffered from cerebral palsy.
The sisters run a tight ship, and abide by a strict schedule. I would help feed, cloth, and play with the boy I was assigned. He also had time set aside for kinesthesis exercises. I would spend about an hour going through the movements of stretching, bending, and moving his body since he could not do so on his own.
After lunch one day, he feel asleep nestled in my lap. It was one of the sweetest moments of my life. I felt completely at peace in that moment.
I would highly recommend volunteering with the Missionaries of Charity. They have establishments in Kolkata and in New Delhi. I also visited the orphanage in New Delhi, but I only spent one day there.
Along with the orphanage, the sisters run a home for the dying destitute in Kolkata. There is no fee to volunteer. However, you will have to find your own room and board. They have recommendations on their website.
You will find some locals in India do not like the Missionaries of Charity and Mother Theresa. You see, the sisters and Mother Theresa are Catholics. Most people in India are Hindu. They do not like that people correlate India with Mother Theresa and Catholicism.