Nepal part 1
The summer of 2009 I found myself longing for the mountainous region of Nepal. I found a great organization to volunteer with, Hands for Help Nepal. Their fearless leader, Badri,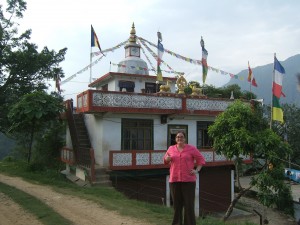 was great!
I was super excited to be living with Buddhist monks in their monastery, and teaching them English. I was not given any training or supplies to work with, but I did end up with a teaching partner. The monastery was half way up a mountain, in Besishar.
It was about a 20 minute walk down to town, and about a 35 minute grueling walk back up. I was given my own room that was attached to the sleeping area of the monks. The pit toilets and bucket shower were located outside the monastery. We did not have running water, but we did have sporadic electricity.
The monks ranged in age from about 7 to 17. Once they turned 17, they had to make a decision. Either devote their life to Buddha and continue on the path of a monk, or leave the monastery. This was a tough choice for most of them to make.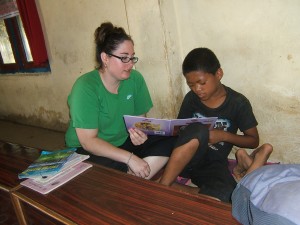 A Buddhist monks day begins early, about 4:30am. I was awakened every morning by the sounds of the prayer music being played through the speakers all around. Often times I would go up to the roof and watch the sunrise over the Himilayas. Breakfast was about an hour later, and was nothing more than tea and a couple of biscuits.
Between breakfast and lunch was English class. I was glad I brought supplies with me; balls to play learning games with, children's books, composite books, pencils, and some good ol' American flags. My partner and I would switch off teaching the lesson, and we always ended the lesson with a game to reflect on what we had taught.
The monks loved reading through the children's books I brought, and their favorite was Beauty and the Beast. Who knew monks would get so excited about a love story? They also enjoyed playing catch with a ball I brought to review the vocabulary of the day.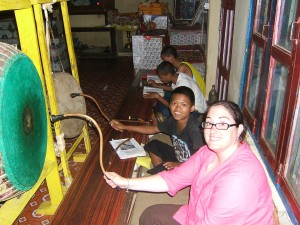 Afternoons were so hot, but it was my only time to make the trek into town for supplies or internet time. I only went down once every three days or so. When I stayed at the monastery in the afternoons, I would hang out with the monks while they took part in various Buddhist activities such as music or puja. I learned so much from spending time with them on these afternoons. I even got to witness what I can only describe as a Buddhist exorcism!
I would highly recommend Hands for Help Nepal. Even though the monks could be a handful sometimes, my experiences there were like no other. I would have liked a little training on how to teach English, and maybe a lesson plan or guidelines to follow. The organization was well organized and made me feel very welcome, and a part of their family.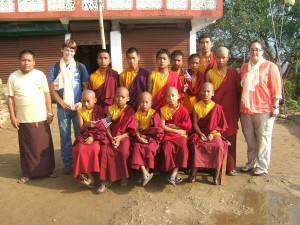 After my time with the monks was up, I ventured to a small farming village outside of Kathmandu for an agro-forestry project. Make sure to check out Nepal part 2 for details on that volunteer project!