Tanzania
June of 2008 I had Africa on my mind. Tanzania was my first time to sub-Saharan Africa. I was originally going to be doing HIV/AIDS awareness in Zanzibar, but my project got cancelled the day I was leaving the States. I arrived with nothing scheduled, but Volunteers for Peace (the organization I once again went through) helped me find a new placement.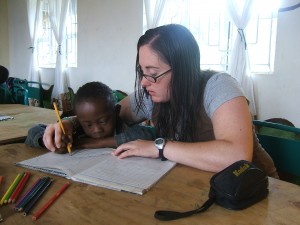 I had 2 weeks to kill before my project started teaching English to a small town in Mwanga. I found a lady on Couch Surfing to stay with, and it turned out she ran her own special needs school. I spent a total of 2 weeks at the school, but I don't recommend it. All the lady was after was money, she didn't have the kids best interest at heart.
I arrived in Mwanga, and was taken to the volunteer house. This project, like the one in Peru, had volunteers from all over the world. Our housing area had an open courtyard in the middle, and our rooms surrounded it. There were 2 pit toilets and a bucket for your shower.
I was paired with an Irish girl, Suzanne, and an Austrian girl, Katrin, for my teaching partners. We all got along great, and had our specialized rolls with the students. Our students ranged in age from 2 to 38, and their English levels varied just as much. This was the biggest challenge we faced. The organization, UVIKUTA, did not do any placement testing before hand. We also did not receive any instruction or materials on how to teach English.
Suzanne, Katrin, and I, came up with our own lesson plans and bought materials. We also bought composition books and pens for all of our students. The role I filled was teaching by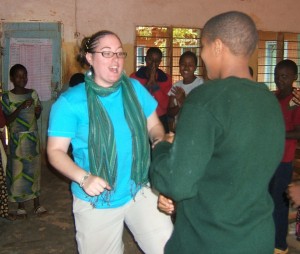 singing and dancing. I would organize games at the end of the lessons so our students were able to get some fun practice.
The students loved singing and dancing, and said their regular school was not like that at all. The classrooms were sparse areas with no glass but bars on the windows. Our students showed up every morning and afternoon, to fully take advantage of the free education.
After classes for the day were finished, the volunteers liked to head down to the local bar for some local beer and spirits. Once a week we each took our turn cooking meals in the outdoor kitchen, where all food was cooked over an open fire.
My favorite part, besides the interaction with the students, was the cultural nights. Every night, a volunteer would present their country to the rest of us. It was so much fun learning from one another. My fellow American, Stacy, and I composed a rap song to teach the others about America.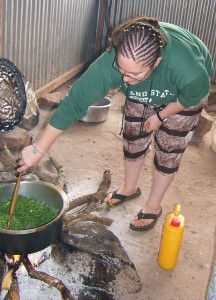 I would recommend UVIKUTA to others. The towndefinitely benefited from us being there, and we all learned from each other. I sincerely hope, though, that UVIKUTA took our recommendations for placement tests seriously. That way, they could organize the classes by competency level, not randomly.