Thailand part 1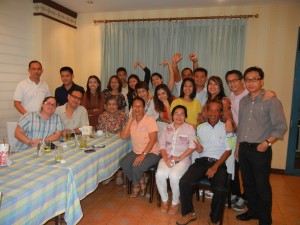 It was 2012, and I wanted to travel to a part of the world that I really had no experience in yet. Asia was on the horizon. I knew I wanted to visit Thailand, Cambodia, and Laos. One of my best friends is half Thai, so I knew I could stay with his family for a bit and get integrated into Thai culture, so that is where I decided to fly into.
Now, what to do volunteer wise? I wanted to work with animals again, and elephants are the national symbol of Thailand. How hard would it be to find an organization to volunteer with that helped out elephants? Well, turns out it was VERY difficult! Most of the organizations I found still made elephants do some sort of show for people, and some also still made the elephants carry tourists around on their backs. I knew I did not want any part of this, so it was proving to be a challenge to find a legitimate elephant sanctuary to volunteer with.
I also knew that I wanted to spend some time with students, perhaps refugees. Before I left, I was able to secure quite a bit of educational school supplies through donations from my fellow educators at Battle Ground High School. I checked a whole extra bag that was filled with school supplies.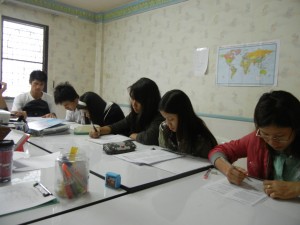 The first school I visited was in Chiang Mai, located in the Northern part of Thailand. BEAM Education accepts refugees from Burma who are trying to complete their GED's. They also offer two different vocational programs. I was CouchSurfing with a lady named Lucy, who volunteers as an English instructor at the school. She was very excited that I had school supplies to donate, and invited me to attend a day at school with her. Lucy is an American ex-pat who has been living in Thailand for the past five years.
The students in her classroom were all in their early to mid twenties, and were all from Burma (Myanmar). A few of them shared their stories of life back in Burma, and they were all very sad.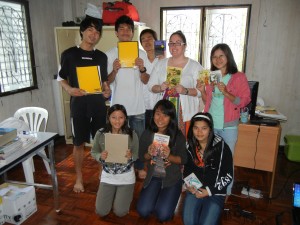 The students all had great attitudes, though, and were looking into a bright future. Once the students pass their GED test, BEAM helps them get into an equivalent to a community college, and funds their endeavors at school. The school had a decent size library, and the building was nice. I donated a bunch of lower level English reading books, spiral notebooks, pens, and pencils. The students were very gracious while receiving the donations.
The second school I was able to visit, was in a small town in western Thailand, called Sangkhlaburi. I found this school, which is run by a Buddhist nun, in my Lonely Planet.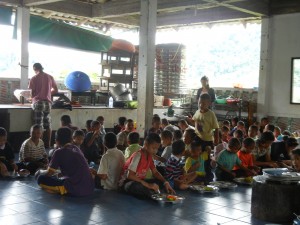 The Hilltribe Learning Center provides basic Thai language and life skills to about 70 children. These children are mainly Karen, Mon, and Burmese. Besides the basic education, the children also received two meals a day.
Most students live on the bare school premise, while a few live with their families and tribes in the surrounding areas. There was five teachers in total for the 70 students. Only one of them spoke some broken English, so I was able to communicate somewhat. The buddhist nun that runs the place, Pimjai, does not speak English at all.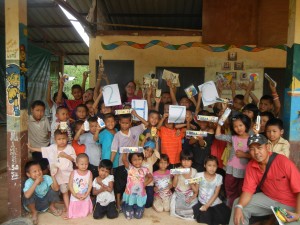 I was able to distribute the rest of the school supplies I had. I felt a little dumb giving them basic English reading books, but hoped that someone would get some use out of them. I also handed out spiral notebooks, pens, pencils, rulers, scissors, and water color paints. The students had smiles on their faces when they received the supplies, and quickly ran to their friends to see what they had scored.
The school was very hard to reach, especially in the rainy season. I was able to hire a motorbike taxi for two days to take me, but on the third day he would not take me because the roads were basically washed out from all the rain.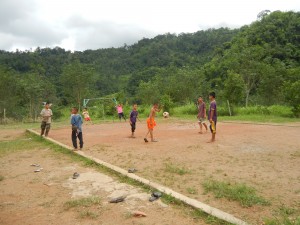 The actual school is located 10km south of Sangkhlaburi, off the main highway on a dirt road that goes up the side of a mountain. It was quite scary, actually, riding on the back of this motorbike while the driver and I were fishtailing around everywhere. When the driver would not take me, he recommended that I just rent my own motorbike to take. Ya, right! I thought to myself. I have never been the driver of a motorbike, and if an experienced driver could not navigate the muddy washed out roads, I was certainly no match for them.
After my time was finished with the children, I headed to Kanchanaburi to spend a couple days exploring the historic town before starting my month long volunteer gig with the elephants. Kanchanaburi was made famous during WWII. It is the location of the death of many European soldiers that were forced to build the Bridge over the River Kwai, and the Death Railway.