Uganda
Following my volunteer project teaching English in Tanzania, I headed up north to Uganda for a little rest and relaxation. What I found was another volunteer project!
White water rafting the source of the Nile is what initially brought me to Uganda. I booked a hostel in Jinja that overlooked the notorious river Nile. I found a flyer for Softpower Education, asking for volunteers. I called the number and volunteered my services. The next day I was picked up from my hostel, and off I was to help others!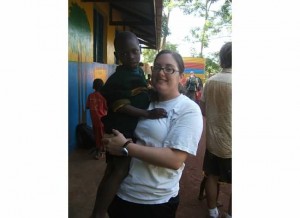 Along with a few other tourist/volunteers, we spent the morning playing with the young children. They loved to be lifted in the air and swung around! They were fascinated with seeing themselves on the digital camera. The children serenaded us with a few songs, they were all very sweet.
After lunch we then headed to a local school, where Softpower was building on additions and making general repairs to the crumbling buildings. I was mainly on paint duty. We jimmy-rigged a painting pole with the use of a long stick. Surprisingly enough it worked well! Man, oh man, was it hot painting in the middle of the day in the African sun.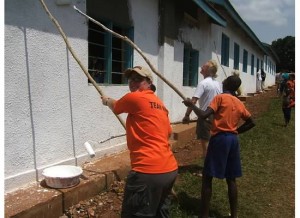 We also made a couple presentations at a local Softpower health clinic about the importance of keeping fresh cuts and wounds clean to dissuede infection.
I continued volunteering for three days. I hadn't planned on volunteering in Uganda, and I had to get back to Tanzania for another volunteer opportunity. Softpower did not charge anything to volunteer, and they provided all the transport. I would have loved to have stayed a few more days, but it just wasn't in my schedule. I would recommend Softpower to anyone, even if just for a few days.