Board Members
The Board of Directors: Promoters of Volunteer Service
President- Crystal Steinmueller 
Crystal's passion for helping others and providing volunteer service started at an early age. With her twin sister, Jennifer, they volunteered where their special needs aunt worked during their middle school years. Crystal continued volunteering in high school, and was first exposed to international travel through International Club. Once she started college at Portland State University, she began her 9 year stint volunteering with the Mt. Hood Kiwanis Camp, as well as getting involved with the Special Olympics.
In early 2005, Crystal lost her twin sister, Jennifer. Since that moment she has dedicated herself to traveling the world and helping others who are unable to help themselves. Out of these trips and experiences, Crystal came up with the idea (with a push from a good friend) of starting up a non-profit to help others find volunteer opportunities abroad and in their local communities. Thus, 2 Hands 7 Continents was born.
Crystal has traveled to 45 countries and volunteered in 15, and has no intention of stopping any time soon. Crystal lives in Vancouver, Washington. She works in alternative education in the Battle Ground School District. Locally, she volunteers with the Southwest Washington Humane Society, Clark County Food Bank, Free Hot Soup, and Friday Night Out.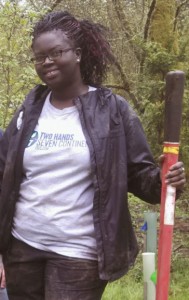 Vice President- Ramou Sowe 
Ramou Sowe was born and raised in The Gambia, West Africa. She and her family have been living in the US since 1997. Ramou graduated from Portland State University with a degree in Community Health. She has volunteered with several organizations throughout the years, including: The Vancouver Co-op, Lift Urban Portland, Mt. Hood Kiwanis Camp, IMPACT, and Kids First. Ramou finds it very rewarding to volunteer, and she hopes to do more volunteer work on a global scale. She is super excited to be a member of the board, "Let's change the world!" she says. 🙂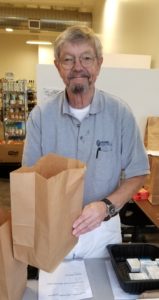 Secretary- Kirk McKenzie
Kirk McKenzie was born in Logan, Utah, but grew up in Corvallis, Oregon. Kirk attended Oregon State University, and graduated with a degree in Humanities. Shortly after graduating from OSU, Kirk made the move east to the University of  Southern Mississippi, where he entered the Teacher Corps and received his teaching credentials. This led Kirk to teach all over the world with the DoDDS. Highlights from his teaching career include organizing trips to Eastern Block Countries to volunteer at orphanages, refugee camps, and schools with children with disabilities. Kirk raised a family in his 33 years of service traveling all over the world with the DoDDS. Since retirement, he has volunteered in South Africa, China, Guatemala, as well as locally with the Clark County Food Bank, Free Hot Soup, the Humane Society for Southwest Washington, and Friday Night Out.