San Fermin aka The Running of the Bulls Festival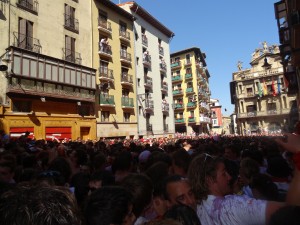 Janine and I found a great parking spot in a garage that only charged 8 euros for 24 hours in the center close to the action! We were donned in our white, and had purchased our red scarves and belts during our excursion the previous day in San Sebastian. We made our way towards the festivities, completely overwhelmed by the shear number of people. I have never witnesses so many people in one place… every direction you looked was a sea of white. Constitution Square sounded like a great place to see the opening of the festival, but we quickly realized we were in trouble.
Red wine, sangria, and God knows what else was being squirted in the air and all over everybody. This was supposed to be happening, but it sure stung when it got into my eyes.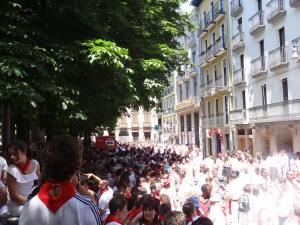 We fought our way into the crowd, and immediately concluded it was a big mistake. We were literally being crushed. If the crowd swayed one direction, we went with it. I was afraid to take out my camera for fear it would get swallowed by the crowd, along with my glasses.
It was fun for about 3 minutes, then we realized we needed to move fast to get out of there. I felt like a salmon swimming upstream to spawn. A huge struggle ensued as we made our way against the grain of the crowd. My hair was getting pulled, our feet were getting stepped on, sangria was being flung in our face… I felt a panic shiver through me. I have never been in any situation remotely like this. When Janine and I finally made it out of the crowd together, we could see the relief on each others faces. "Holy shit!" I said out loud. Little did we know, though, around the corner a riot was brewing.
As we turned the corner we could see about 30 locals proudly displaying their Basque flags shouting "Independencia!" San Fermin is not only about bull running, it's about the Basque people standing up on their own, showing Spain a united front to freedom.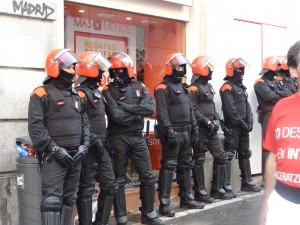 Lined up across from these patriotic folks was riot police in full gear. The situation seemed to be a friendly protest, until a riot policeman came through the line with a bloodied face. Someone had hit him with what I guess was a broken beer bottle.
The riot police started marching and pushing the people with their flags back. One of the flag wavers pulled a bag of glass bottles out of the recycle and started breaking them. Oh man, I thought… Shits about to go down! Janine and I could sense we needed to get out of there, so we grabbed each others hands and ran away from the commotion, along with a big crowd of people.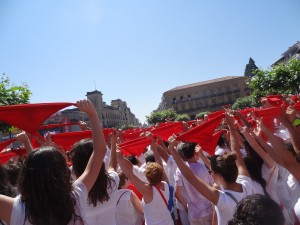 We finally found a nice, peaceful place to watch the opening ceremony of the festival on a big TV set up in one of the main squares. It was interesting to see so many people holding up the red bandannas all at once, then placing them around their neck. It was now party time!
Janine and I had planned to meet up with Jodi, Ondrey, Gareth, and Dirk, but it was almost impossible to find anyone in such a crowd. On our second loop around the square, Janine spotted "2 Jesus looking guys with beards", and it was them! Such a joyous reunion for only being separated for a couple of days. We spent the rest of the day sitting in the sun, drinking too much sangria, and talking about anything and everything.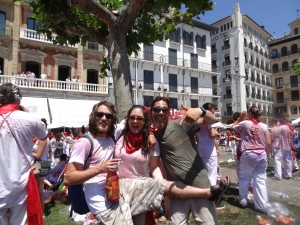 We eventually moved to the shade, where I made friends with a group a group of French guys. We communicated in English, French, and Spanish, it was awesome. Janine had to come to my rescue after a few too many liters of sangria 🙂
The following morning was the first running of the bulls. We arrived back to the center of the city with about 15 minutes to spare, and were absolutely appalled by all the trash and the horrid smell! The city had sanitary workers working around the clock and they could still not keep up with the amount of garbage that was being produced. Not to mention the smell of shit, pee, puke, stale beer, and sangria that was everywhere. It was totally disgusting.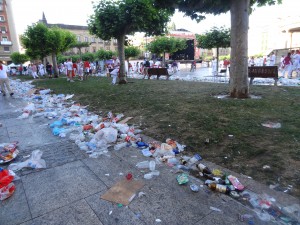 By this time all the good spots were taken along the bull route, but the atmosphere was electric. We still hoped we could spot a hoof or flailing arm of a runner. No such luck! We heard the first shot, which released the runners. 30 seconds later, the second shot rang as the bulls were discharged. The crowd roared for what seemed to be 2 seconds, we heard a light rumble, then silence. It was over. We didn't see a thing!
Janine and I decided to head towards the Plaza del Torres, in hopes of catching some action there. We didn't have tickets, but luckily they opened up the gates and let the 20 of us that were standing outside in. The bowl of the arena was filled with runners, and we could see one bull running around.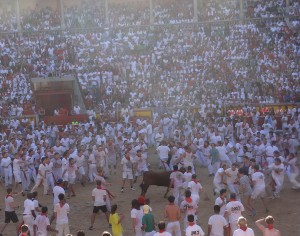 The bulls didn't seem to be too bothered by all the people around them. Every minute or so someone would instigate the bull and send it into a frenzy, knocking into people and running people down. This was the entertainment. I wasn't overly impressed, and actually felt quite sad for the bulls.
Janine and I snapped a few pictures and made our way to meet up with Ondrey. Him and I had our fill of the festival, and were ready to resume walking. Janine had a 2.5 hour drive to catch her flight. We said goodbye and parted ways. It took Ondrey and I over an hour to get out of the center of Pamplona! So many people, plus the parades had started and most of the Camino markers were difficult to spot.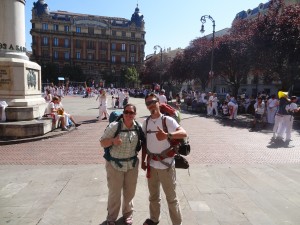 Our goal for the day was to sleep at the 12th century Knights Templar Church in Eunate, which was off the main pilgrim route a few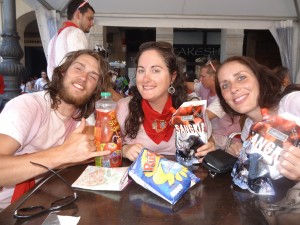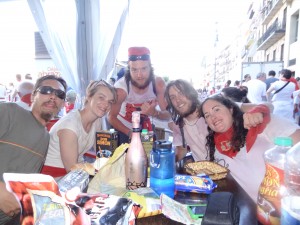 kilometers.