Ghana part 2
A good friend of mine, gave me the suggestion of finding a Peace Corps volunteer to work with in Ghana. Peace Corps Journals was were I started my search. I emailed a few random people after reading their blogs, and I got a few bites!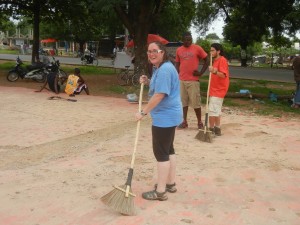 After a few back and forth emails, a Peace Corps Volunteer named Ryan offered me the opportunity to help him with a side project. He was putting together a basketball tournament that would educate the participants about HIV/AIDS. Every team that entered the basketball tournament had to send a representative to attend a presentation about HIV/AIDS. That person could then go back and teach their team what they had learned.
The first day, the plan was just to fix the cracks. There were other Peace Corps Volunteers there to help out, who had just made it to Ghana. We were out there with chisels and hammers, working away to break up the existing concrete. By the end of the day it was decided there were too many cracks to fix, and that the court needed to be completely releveled.
The next few days were spent with pick axes and chisels. We all had blisters by the late morning of the second day. Not to mention we were soaked in sweat from working in the hot African sun. We were not as far in demolition as we should have been, so Ryan found out he could hire prisoners for the manual labor. The jail was right across the street.
The prisoners ended up doing most of the hard labor after that. I helped cart off the pieces of the court in wheel barrows. By the time I had to leave to head back to Accra to catch my flight home, only about a third of the court was finished. Slowly, slowly, the African way.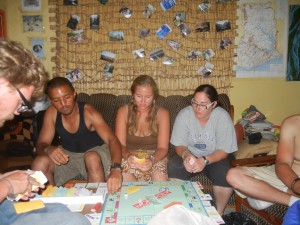 I enjoyed my time volunteering with the Peace Corps folks. They were all very welcoming, and by the third night they invited me to stay with them at their volunteer house. We shared a few beers and stories about traveling. Plus, we played an epic game of Monopoly.
I would recommend this avenue for volunteering abroad. It takes some leg work, but it's well worth it. Not only are you helping out Peace Corps, you get to experience real life in the place you are volunteering.