Guatemala part 1
It was 2010, and I wanted to brush up on my Spanish. I asked myself, why not check out Central America? I couldn't think of a reason not to go, so off I went!
I knew I wanted to try something different this time around. So, I decided to volunteer with animals. After a few weeks of research, I stumbled across the webpage of ARCAS. ARCAS is a wild life rescue and rehabilitation center that's located just across the lake from Flores, in Guatemala.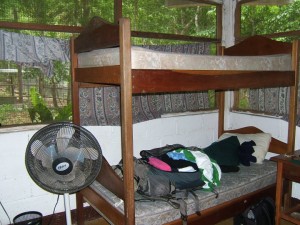 In the early morning hours I arrived at ARCAS in a very small and wobbly boat. I made my way up the steep path with my 50lb backpack strapped on, and couldn't find anyone. After about 10 minutes of wandering around, a local worker saw me. We conversed a little with our spanglish, and he took me to the main volunteer area, where everyone was having breakfast.
I was taken to my room by a friendly Canadian fellow, whose name now escapes me. The rooms were small but functional. They had two sets of bunk beds, a fan, a small table, some shelves, and no glass on the windows. My room shared a sink, toilet, and cold running shower with an adjoining room.
I dumped my things, changed into some grubby clothes, and was ready to get going! My first assigned cage was parrots. New volunteers were given a mentor volunteer to show them the ropes. Our duties for the bird cages were simple… clean the cage, feed the birds, and absolutely no talking. Cleaning proved to be quite amusing. The birds wanted to eat the top of the wooden broom, sit on the cleaning bucket, peck at the cleaning brush, and poop all over you.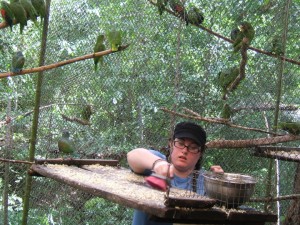 We were not supposed to talk at all while in any of the bird cages. You see, if these birds started to talk, they could never be released. Talking birds do not naturally occur in the wild, and if released they could teach other birds to talk. This could disrupt all sorts of things. I spent a week cleaning bird cages, then moved on to spider monkeys.
Spider monkeys are very clever creatures. The first day I went into my assigned cage, the monkeys all tried to escape! They figured out how to unlock the first door, but they couldn't gain access to the second doors lock. Volunteers were only allowed in the juvenile (up to three years old) monkey cages, the adults were too aggressive and dangerous. Through out the time I spent with the monkeys, I had my glasses stolen, my hat taken from my head, my dominance tested by monkeys jumping on my back, my cleaning supplies taken, and of course peed on. Would I change a thing about this experience? Not a chance!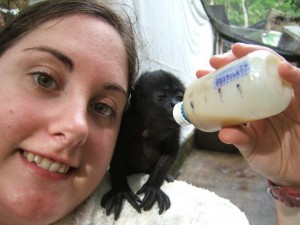 I was fortunate enough to work with a baby, eight weeks old, howler monkey. He was found in the jungle abandoned, so he was brought to us. His name was Gizmo, and he was the sweetest little thing. We had to bottle feed him 5 days a day, and play with him so he received some interaction outside of his cage.
Not only were the animals great to work with, the staff and other volunteers were as well. In between cleaning cages and feeding the animals, we had odd jobs around the grounds of ARCAS. Composting, drainage clearing, and food preparation were all tasks I took apart in. These projects really gave the volunteers a chance to work together and get to know one another.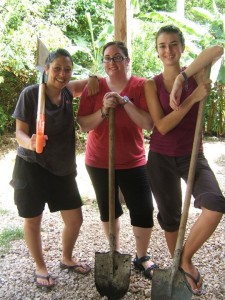 The camaraderie at ARCAS was the best I have experienced. There were volunteers from Japan, USA, England, Ireland, France, Denmark, Canada, Australia, Germany, and Austria. We often spent our mid day breaks hanging out on the dock sunbathing or going for an afternoon swim. Evenings were consumed around the table playing cards and sharing stories from back home. It was such a great group of people.
I would definitely recommend ARCAS. It is a well run and established organization. The price you pay for room and board are reasonable. The interaction with the animals is priceless.
ARCAS has several different volunteer options. I chose the "Plan Mochilero", because I am an experienced traveler with some Spanish speaking skills who could arrive at the project site on my own. They offer other plans in which you can reserve a volunteer spot and get picked up from the airport, both for an additional fee.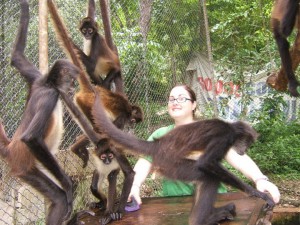 My time at ARCAS was phenomenal, but it was time to move on. I spent about 4 weeks traveling around, then it was time for more volunteer work. This time, I was donating my time and energy to a dog and cat shelter about 45 minutes outside of Guatemala City.
Continued in Guatemala part 2.