Founder Crystal gets interviewed by Clark College
Last month, founder Crystal Steinmueller was contacted by Jennifer Aragon of the Volunteer and Service-Learning program at Clark College. Below is the interview that was published in their winter newsletter.
2 Hands 7 Continents
An interview with founder Crystal Steinmueller about her global impact (adapted from original transcript)
Jennifer: What inspired you to found 2 Hands 7 Continents?
Crystal: The inspiration for founding 2 Hands 7 Continents came, and continues to come, from my twin sister.She passed away 8 years ago, and it changed my life. With a few friends, we had traveled to London, Dublin, and Paris together 4 months before she died. I traveled pretty extensively for the next 2 years, just being a tourist. After that, I really wanted to dive into places I was traveling, so that's when I started volunteering. I learned so much more about the cultures and people where I was volunteering this way. I was living the life that they live. Pit toilets and all! 🙂
J: It looks like you have worked with many other non-profit organizations. Which ones have you had a positive experience with?
C: Out of all the non-profits I have worked with, I really only do not recommend one of them. It was the organization I worked with in Ghana. To make a long story short, I think he was just putting the extra money in his pocket, and not using it for what he said he was going to within the community. The following is a list of organizations that I have worked with that I recommend highly: Hands for Help (Nepal), ARCAS (Guatemala), Animal AWARE (Guatemala), Elephants World (Thailand), BEAM Education (Thailand), SoftPower Education (Uganda), URPI (Peru).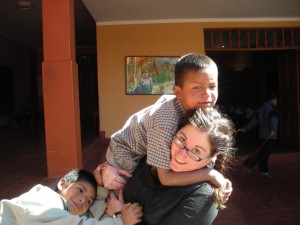 J: Who are you inspired by and why?
C: I am inspired by everyone who is willing to put others before themselves. We are so lucky to live here in the US where we have rights, hopes, and dreams. It's easy for us to forget that not everyone has that luxury. I am inspired by those who are less fortunate, and who seek a better life. I am inspired by those who give up their luxuries so that another person can have clean drinking water. I am inspired by those kids who have to sell snacks at the bus and train stops in Asia and Africa to help support their family. I am inspired by life, because we never know when our time will be up.
J: Do you have any advice for people who are looking to volunteer abroad?
C: I like to ask the organization I want to volunteer with for some email addresses of previous volunteers. That way, you can ask questions to someone who has experienced volunteering with that organization, and can get honest answers. I also never wire money ahead of time to cover expenses. Any organization who will not allow you to pay when you arrive is a bit shady in my book. Also, don't pay a ton of money to volunteer. There are so many organizations in which someone at the top is getting rich and the people and community you are volunteering to help aren't getting much of anything. It should not cost more than $500 to house and feed you for 2 weeks. Nowadays, I won't pay more than $100 per week typically (depending on the country, of course). If you spend your time researching, more often than not you can find free and low cost options. I have some sites listed on my website with this information. Also, pick a country you will be comfortable in, especially if it's your first time. It might be different with a travel group, but I have never been associated with a group. Also, take some time before and after your volunteer experience to travel around a little.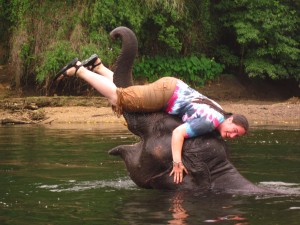 If you are interested in volunteering or learning more about 2 Hands 7 Continents, their website is: http://www.2h7c.com/
Interview by Jennifer Aragon