From Roncesvalles to Pamplona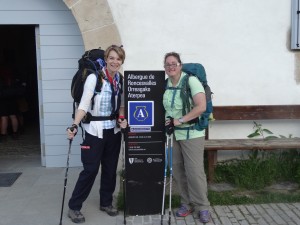 We woke up in Roncesvalles at 6:30am and realized we were two of the last people left! Other pilgrims started getting up around 4:45am… the rush to the next albergue had begun. Jodi and I were not worried about securing beds at the end of the day, we both had the attitude that everything works out or happens for a reason. There was no breakfast this early, but we had prepared by purchasing a few items the night before at the restaurant. It was a short walk to the next town, where we stopped at the mercado for reinforcements.
Jodi and I were making a slightly shorter day than most. The majority of the pilgrim guide books had Larrasoana as the end for this day (27.4km). We decided to stop in Zubiri, only 22km down the trail. It was a hot and sweaty walk through tree lined trails as we made our way down the mountain.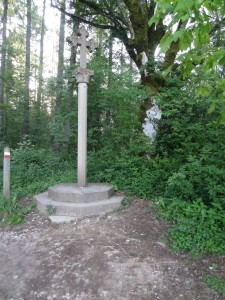 We had a nice girly gossip session ranging from hopes and dreams to what we wanted for dinner. I was certainly glad we had each other.
As we entered Zubiri we had to cross over a river… with the weather as hot as it was, we decided to go check out the water after we acquired our beds. We checked in to the municipal albergue, stopped for an ice cream, and headed back to the river. Within 5 minutes, we saw the Welsh brothers! Jodi was very excited, so we went to say hello. Gareth and Dirk were hanging out with Ondrey, from the Czech Republic, and Mick, a Northern Irishman.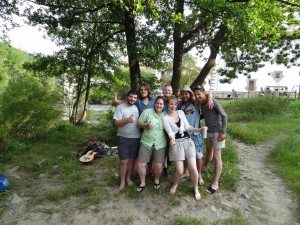 One thing led to another, and we ended up having a party that day and night on the bank. We had various other pilgrims join us throughout our time down by the river. Around 11pm I saw some kids playing, so I decided to join them. I was not sure exactly what was going on, but I jumped right in to the game they were playing. I kept asking them if they had school the next day, but they assured me they didn't. We played together for an hour or so, then they all headed home.  After about 35-40 beers, six of us pilgrims slept right there on the bank of the river. Obviously this was not planned, so I nestled up to the only person with a sleeping bag that spread out like a blanket… the Northern Irishman. This was not a good nights rest to say the least!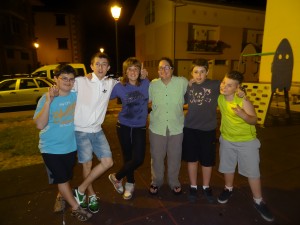 My alarm went off at 6:30… Slowly Jodi and I headed back to the albergue to grab our things. We ended up sleeping another couple of hours until the cleaning guy came in and gave us the "why are you still here?" look. We gathered our belongings and got ready for our 22km trek to Pamplona.
As we were leaving Zubiri, the guys we partied with the night before were also just leaving. So, we decided to walk together. I made a mental note to myself to never drink that much again while on the Camino…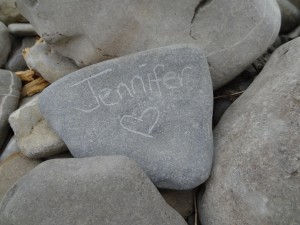 walking with a hangover is definitely not ideal. Plus, my toes were still plagued by blisters. We made many stops this day; resting, eating, taking everything in. One of our breaks was along a rocky riverbed. I wrote my sisters name on a rock and left it there. The thought of her laying beside the river was a happy thought for me.
The group was having such a great leisurely time together, we decided to stop short of Pamplona and camp outside of Arre. Ondrey, Dirk, and Gareth all had camping equipment, and Jodi had found a sleeping bag, so we were all set. A delicious dinner was prepared, and we played our favorite music with the help of YouTube.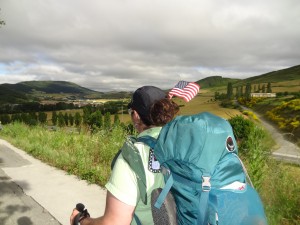 We strolled into Pamplona in the late morning of the 4th of July. I had a train to catch outside the city to where Janine and I were staying for the festival. Gareth, Ondrey, and I had lunch at Burger King, and it was a tasty treat! I will admit, though, I did feel guilty about it. I walked to the train station and headed out to Tafalla.
I arrived in Tafalla during midday, so with the famous Spanish siesta going on, I couldn't find a taxi. I walked the 6km to the hotel, during the hottest part of the day… along the side of the highway! Not exactly what I had planned, but I am flexible. Janine arrived shortly after midnight, getting a little lost along the way. I was excited to see my friend and travel companion of 6 years.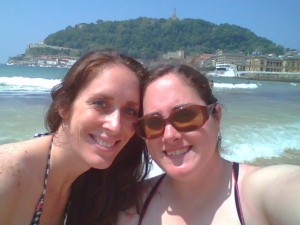 We drove up to the beaches of San Sebastian the next day, and basked in the sun while lying on the crowded beach. We did a little shopping, ate tapas and ice cream, and explored the historical side of the city. This was a culture shock for me since I had been on the Camino for almost 2 weeks. So many people, so many food choices, so much going on! I immediately missed the tranquility of the Camino. We headed back to Tafalla since we had an early morning planned, the opening of the San Fermin (Running of the Bulls) Festival.