San Cristóbal, Galapagos Islands: Part 2
After spending last week at the organic farm, I was ready to check out another area in the highlands, La Soledad. This is a very small village where most of Alex's family is from.  Alex and Ashley have 1 hectare (2.5 acres) of land next to his grandfathers. The goal is to clear out the invasive species, dead plants and dead trees, and build a hacienda where they will have volunteers come to work the farm they will have. It will be a local, sustainable eco lodge of sorts, and I find this project very exciting. This whole process will take many months to complete.
The main invasive species we were clearing out was the dreaded mora (blackberry bushes). It is said that pirates brought this pest to the islands, where it has thrived.  Armed with machetes and gloves, we hacked away. We were also clearing out the guayaba tree. This is typically found on the mainland of Ecuador, but not in the Galapagos. However, the guayaba also produces fruit that pigs like to eat, and it also serves as a place for the maracuya to grow. So, we did leave a few that already had the maracuyas living in them.
Joining Ashley and I was Alex, his mom Lucia, his sister Madeline, his brother Gabriel, and a hired worked named Don Bolo. He is an experienced man, and he works very hard for $15 a day, and a meal. The national minimum wage in Ecuador is $400 a month, but it is slightly higher, $600 per month in the Galapagos since things are much more expensive here. Although, you can rent a nice house (we would call them townhouses or duplexes back home) for around $200 a month.
Houses here are usually one big building that is split into 2 or more houses. But, they don't really have addresses here. If you are in a taxi and want to go home, you say the name of the house (all the houses have names, usually a family name), and the barrio (neighborhood). For example, Casa de Cristobal Pallo, Barrio Fragates is where I live. If you get mail, they send a note and you have to go and pick it up at the post office.
Gas is surprisingly cheap here! It is only $1.08 a gallon. Out of all the things here on the island, I figured gas would be one of the most expensive items. I guess the government has some sort of price control on the gas. So, it's the same price all over the country. It makes getting around nice, since taxis in town are only $1. It's virtually unheard of to own your own car.
There are strict regulations in place when it comes to importing a car, or even a moped for that matter. I believe there is only 1 traffic light on the whole island. When crossing the street you have to be more cautious of dogs than cars. We usually just walk everywhere.
The inhabited section of the island is very small. About 97% of the Galapagos is still completely natural terrain. You can walk from one end of town to the other in about 20 minutes. I have consistently been walking between 4 and 7 miles a day.
It's inevitable that every 5 minutes something is itching on my body. My arms and legs get hit the hardest by creepy crawlers and fearless fliers. There is no risk of malaria here, but you have to watch out for the daytime mosquitos–they are the ones that carry dengue!
When clearing the land you also have to be cautious. There is a poisonous apple tree. It carries a small green apple and with white flowers. If you eat this fruit you will die. If it gets on your skin it will itch and burn. My hand got stuck by a thorn of some sort that left half my hand feeling like it was sleeping for 4 days!
With the islands being pretty much located directly on the equator, the days and nights are equal in length. The sun comes up right around 6am, and sets right around 6pm. I do miss the long summer nights we get back home. You think this would cause people to take advantage of the early morning hours, but it does not. If I am up walking around by 8am, hardly anyone is stirring. And most places close for lunch/siesta time between 12-2 when the sun is at its peak. I don't mind this custom 🙂
There was a concert that came through the islands over the weekend. It's always a big to do when something like this happens. Everyone makes an appearance to check it out. Ashley, Alex, and I headed to the bar first to play some pool, while the others got ready.
We go to the less crowded establishment, Iguana Rock; we like a more quiet atmosphere. I was teamed up with a guy I had played with before, and we won 3 games in a row. By this time we had decided to go check out the concert, down at the Military Zone.
What a wild Saturday night we had! Ashley, Alex, and I ended up spending the evening with a few of Ashley's coworkers, and friends of Alex's. We played pool and salsa danced, closing the bar down around 1:30am. Then we hit up the club and salsa'd some more, closing the club down at 3am.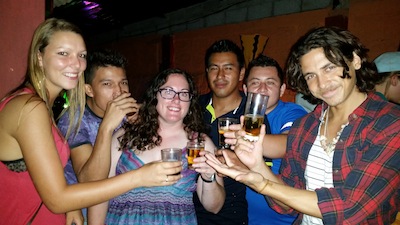 We then headed to the Military Zone where a concert was happening, and we dancing some more. By this time it was about 4am, and we didn't want the party to stop. So, we found a couple crates of cerveza and headed back to Alex's moms house. The next thing I knew, the sun was up! We didn't get home until 8:15 in the morning. We all had some much fun dancing, laughing, and just hanging out. Lasting memories were made that night for sure!
Next week, I get to play tourist for a day. I am going on a day trip out to Kicker Rock and Punta Pitt. These are both must sees of the island, and what most people come here to see. I have the opportunity to snorkel with dolphins, manta rays, sea turtles, and the elusive hammerhead shark! I hope they all come out to play.
I will also be back at the organic farm. There was word last week that the coffee plants are ready for harvest! So, I am hoping that's what I will be doing. If not, I will dig a few more compost pits, they already have 1 filled that I dug last week!