VolunTravel Blog – Sustainable Resource Volunteer Project
What is a sustainable resource volunteer project?
I live an unconventional life, in that I prioritize my happiness above my financial security and my level of social status. I have a philosophy similar to that of the New Economics Foundation's report, 21 Hours: Why a shorter working week can help us all to flourish in the 21st century. Instead of working a 50-week year, I take unpaid leaves for three or four months every year so that I may pursue a meaningful hobby that that fulfills me and facilitates my growth as a person.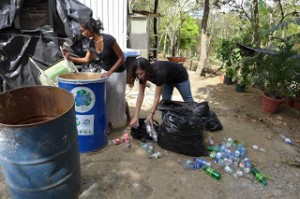 This was the third winter in a row that I have had a chance to travel and volunteer. This time, my travels took me back to my alma mater, the United Nations mandated University for Peace in Costa Rica. I earned an MA in Sustainable Natural Resource Management in 2009, and I returned to take a couple more classes. While here, I got involved with the university's Sustainability Club. I led a team comprising of a couple grad students from this club, and a few people from the maintenance staff.
The idea with this particular project was to equip the Sustainability Club with the ability to lead simple, short-term, and extremely meaningful projects, while at the same time empowering the maintenance staff with a new skill of building something useful from waste materials. Additionally, the collaboration between grad students and maintenance staff builds a bridge across vast social differences and fosters the kind of peace and goodwill identified in our mission and in the mission of the university.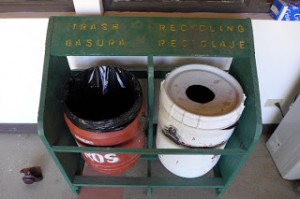 The problem: there are 10 garbage/ recycling stations located on campus. Each station has a garbage bin, and a recycle bin. Although each are labeled, the maintenance staff consistently finds garbage in the recycle bin, and recyclables in the garbage bin. The solution: recycle bins made from wasted materials that clearly transmit a non-verbal message of what its contents ought to be. We found some old, beat-up metal desks that were no longer wanted so the maintenance guys went at them with cutters and welders, and created a structure similar to the what I had shown them in pictures.
Unfortunately,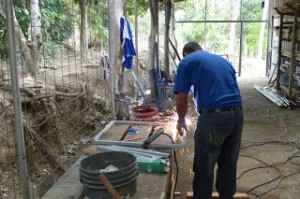 my Spanish is embarrassingly bad, and we had several hangups in the frame's production. It wasn't built with any planning for use – it was just built because I asked them to build it, and finished my question with "Por favor." So, it was too big to hold any of the plastic garbage bags in stock. They will have to buy another size of bag to fit it so this bin will only be used in the Peace Park, an adjacent plot of land that is open to the public, and for special events on campus.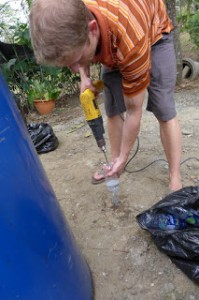 We sorted out bottles, washed them, drilled holes in them, while the maintenance staff did the welding. Another language barrier reared its ugly head and we had to re-drill all the holes in the frame they'd made us. I took on that one, while the the two students stripped off the insulation from some old internet cables. We then used the cables to string up the bottles to form a beautiful creation that would be a beacon for collecting recyclable materials.
It's sturdy and looks great, but we can't put them into the existing collection stations. For the next bin, I decided to get all the measurements and draw up a design that was completely ready before the guys started debating what my broken Spanish was requesting. This time, we used some leftover wood that had been designated to be used in the construction of the new Earth Charter building. They did a fine job in building it to my exact specifications, leaving it to be wired and bottled. The new bin fits perfectly into the collection station, it looks great, and it resolves the issue of differentiating between what goes where! Problem solved!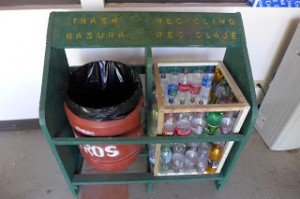 The next step is to build 9 more of these bins for the rest of the campus. Easy! The materials may alter slightly, but the important concept about utilizing waste has been embraced by all of the participants, and I'm excited to see what they come up with!
This was a very successful volunteer project abroad. It was creative, and it was completed with an expectation that it would continue with new participants as new participants become available and interested. The important markers of this project was that I helped fill a hole in the community, I transferred a set of skills to multiple groups, and I added an extra element of sustainability to the university's operations. It was a great thing with which to be involved and it made me feel happy knowing that I had done something good for others. Adventures like this keep me going, growing, and grateful!