Volunteerism Stories
Sharing Volunteerism Stories with local community
After I returned home from Thailand in August, 2012, the local newspaper, The Columbian, ran a story about 2 Hands 7 Continents and my volunteer work with the elephants. I was surprised with how many people I received emails from with encouraging words. It's always nice to feel validated. I was also contacted by different organizations who wanted me to come and share my volunteerism stories and information about my non-profit. This was exciting news!
First up, the Peace and Justice Fair. I had already registered for this event before going to Thailand, but it served as a great platform to let the community know who I was and what I was doing. There was a steady flow of people stopping by my booth all day. I was really taken back by the encouragement and warmth I was receiving from others.
We used this event as a fundraiser for Elephants World. We raised $281 that day to donate to Elephants World to help them purchase the land the sanctuary is on. It is very important that Elephants World purchase the land, so that it does not get sold and turned into a commercial hotel and restaurant that promotes the elephants.
I received an email from a lady who is a member of the Sunrise Rotary Club here in Vancouver.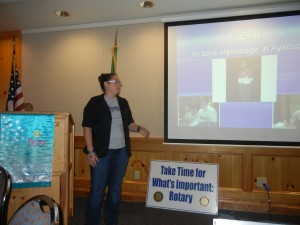 She asked if I would do a 20 minute presentation at their next meeting. I gladly accepted, even though I was a bit nervous. I prepared a 20 minute PowerPoint in which I explained who I was, the motivation behind 2H7C, and all my volunteer experiences abroad. I spoke to 20 people over breakfast at the Heathman Lodge. They were all very attentive, and had some great questions for me once I was finished.
Following the Rotary presentation, I received a letter at work from the Delta Kappa Gamma Society. The Delta Kappa Gamma Society International is a professional honorary Society of women educators. The Society promotes professional and personal growth of its members and excellence in education. They asked me to come and speak at their next chapter meeting about 2H7C and particularily the time I spent with the elephants.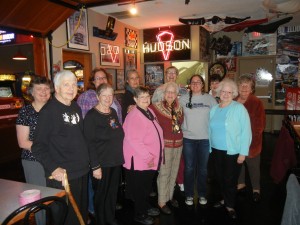 The ladies of Delta Kappa Gamma treated me to dinner before my presentation. I only had a poster board with pictures of the elephants since I had no access to a computer or projector to show a PowerPoint. I spoke to them for 35 minutes about the troubles that face many Asian elephants. They were surprised to learn that riding in a chair on the elephants back is not good for them. They were very shocked at some of the statistics and stories of cruel training that I shared. In particular, I told them the story of baby DooDoo and how he might have to go through phajaan training to become a circus elephant.
The last presentation I did was for the Battle Ground High School Book Fair that was held at Barnes and Noble. I was asked by the librarian to prepare a presentation about traveling abroad and volunteering. I decided to use the same PowerPoint that I had made for the Rotary presentation.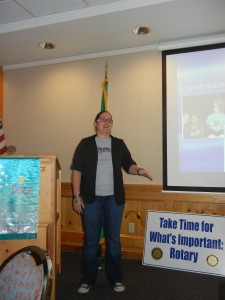 I presented for 35 minutes to a small crowd of about 20 people. I was way more comfortable this time around, since I was getting the hang of talking in front of small crowds. The onlookers were absorbed by my stories of poverish villagers and abused animals. I paint a different picture of international travel since I try to steer clear of the major tourist areas, and I get involved with the locals.
I look forward to sharing my stories of volunteerism and travel with other groups or organizations that would like to hear more about what I do. Please contact me at 2h7c.info@gmail.com if you are interested in having me speak at your next event!